At the end of 2021, two CCPA Group employees were invited to take part in the InnoFeed podcast, the podcast that interviews the players in the animal feed industry in a 20 to 40 minute format. Bernard Gozlan, expert in feed ingredient specialities and host of the podcast, welcomed two of our CCPA Product Managers, Anne-Sophie Valable (Monogastric Product Manager) and Jean Pascard (Ruminants Product Manager), to discuss one of the key topics of the moment: the impact of heat stress in animal production.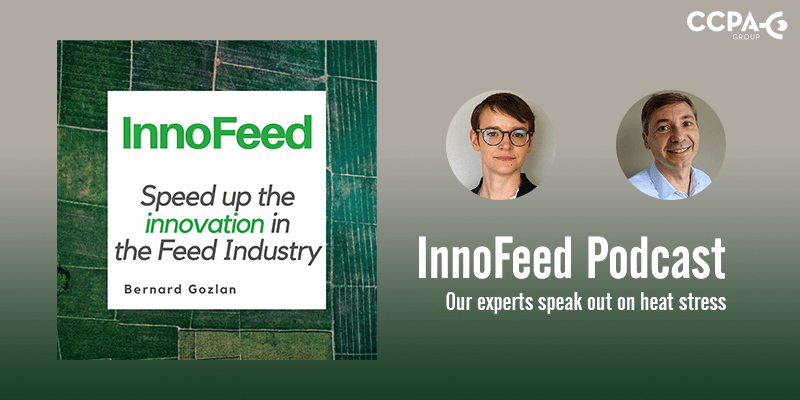 30 minutes of rich exchanges on heat stress
For almost half an hour, Bernard Gozlan and our two colleagues were able to discuss one of our main areas of expertise: heat stress management. This is a wide-ranging and topical subject, as heat waves are currently raging all over the world, with more and more heat waves due to global warming.
READ MORE. The generalities of heat stress in livestock
To support animals in hot weather, our experts were able to showcase our specialist range of thermal comfort for livestock: Thermo®. In addition to products specific to each species, Thermo® is also a range of tools available to farms. Indeed, the mobile application Thermo®Tool calculate stress levels and ThermoPlan anticipate heat waves.
The InnoFeed podcast available on all platforms
You can now listen to this podcast online on all streaming platforms: Spotify, Apple and Deezer.
For further information on the podcast or if you would like information on our Thermo® range, please do not hesitate to contact us.